This page about Autscape 2009 is of historical interest only. Go to the
home page
for current information.
This page describes the catering arrangements for Autscape and where you can get food and drink outside of the venue. Should you have any further questions please ask them on the autscape chat list or privately email the venue co-ordinator.
The menu is below. If you select any of the photos you will see a larger version of that photo.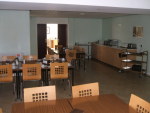 There will be three meals per day provided for people staying on-site. If you attend for days only or are staying off-site lunch and supper will be provided. While self catering is only available for those who need it for medical purposes, there are tea/coffee making facilities, fridges and microwaves for all participants to use in the kitchenettes near the bedrooms.
In the morning and afternoon there will be breaks between the activities where you can get a hot drink and biscuits.
Most special diets (e.g. nuts, seafood, dairy and gluten free diets as well as vegetarian, vegan, and diabetic diets) can be catered for but we must know about your special diet in advance, as the venue need the information in good time to be able to plan their menus. Please note, however, if you require a particularly restrictive or complicated diet, you may need to cater for yourself, for which a limited facility is available. Meals are served cafeteria-style, with a queue and servers, in a communal dining hall, but once you have your meal you may take it to your room, out to the garden, or into the dining room annexe if you find a large full room difficult.
Meals and Dining Room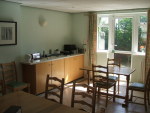 The venue ask that we are punctual for meals. Once you have your meal you are welcome to stay in the dining hall for as long as you need.
Breakfast is served between: 7:30 and 8:45

Lunch starts at: 12:30

Supper starts at: 18:30
All drinking water goes through either a Britta filter or urn.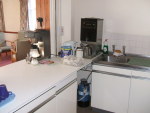 Kitchenettes
The kitchenettes mentioned in the accommodation and the conference sections will contain tea and coffee and biscuits. These will be replenished on a daily basis.
Convenience Stores
As described in the outdoor section there are convenience stores and takeaways within walking distance of the venue.
---
Breakfast
Cereal (including gluten-free)
Grapefruit segments
Prunes
Bread (including gluten free)
Tea/Coffee/Orange juice/apple juice
Lunch and Supper
Day
Lunch
Supper
Tuesday
Risotto
Lettuce, tomato, cucumber, celery, onion, grated carrot, bean salad (olive oil & vinegar for dressing)

Cheese board and biscuits
Fresh fruit
Wednesday
Meat option:
Chicken portions roasted in olive oil
New potatoes, peas, carrots

Vegetarian/vegan option:
pasta (gluten free also available)
Choice of tomato & onion sauce or cheese sauce

Fresh fruit salad and cream
Jacket potatoes
Grated cheddar cheese, tinned tuna, lettuce, tomato, cucumber, celery, onion, grated carrot, bean salad (olive oil & vinegar for dressing)

Yoghurts
Fresh fruit
Thursday
Meat option:
Roasted lamb or pork chop (cooked in olive oil)
New potatoes, peas, carrots, green beans

Vegetarian option:
Potato & herb spanish omelette

Vegan option:
Ratatouille & rice

Eves pudding & custard or fresh fruit
Cheese & tomato quiche or cold meats/eggs

lettuce, tomato, cucumber, celery, onion, grated carrot, bean salad (olive oil & vinegar for dressing)

Cheese and biscuits
Fresh fruit
Friday
Meat option:
White fish with a parsley sauce
New potatoes, peas, carrots, grilled tomatoes

Vegetarian option:
stuffed courgettes with rice and herbs

Meringue case with fruit or fresh fruit